This week's An Apple a Day idea share linky from
The Applicious Teacher
is on homework. I have tried a few different things regarding homework and found that at the Pre-K level it is best to keep it pretty simple. I used to send home a packet of homework at the beginning of the week that went along with my theme for the week and ask that the packet be sent pack at the end of the week. When a little one brought back the packet I would put a sticker on their homework sticker sheet. After the sheet was full they got a prize. What I found was probably pretty typical. The same little ones brought back their homework week after week and the same little ones did not bring anything back. The next year we had a paper shortage in my district so I did not send home any homework. I then had parents asking me to send home extra work. The parents told me their child wanted something to work on when an older sibling sat down to do his or her homework. So, this is what I came up with: I would make up packets of extra work and offer it to the parent and/or child. They could choose whether they wanted to have it sent home. If they took it and brought it back to school I would let the little one pick a small trinket/prize from my treasure box.
Many students wanted the prize but had no time or support to do homework at home. If this was the case, I offered to work on it with them during free time. This was a win/win situation for both of us. :) My homework/extra work packets usually consist of a cutting page or a cut and glue paper, some kind of colors, counting, shapes, letter of the alphabet practice, and/or name writing practice page. I would try to mix it up each week. From time to time, I also include a family project, such as decorating a turkey in disquise, family Christmas stocking, etc. I also try to send home a packet of extra work to everyone over long breaks from school. I have a 1" binder I use with every student to send home daily notes, projects and homework. That way parents know to look in the binder instead of having to search through the backpack. This is my binder cover.
Feel free to download it
HERE
if you would like a copy.
One last thing: I am linking up with
Teaching is a Gif
t and
Teacher Without a Class
for their Bloglovin' Blog Hop. Be sure to check out all the amazing teacher blogs below and feel free to follow along!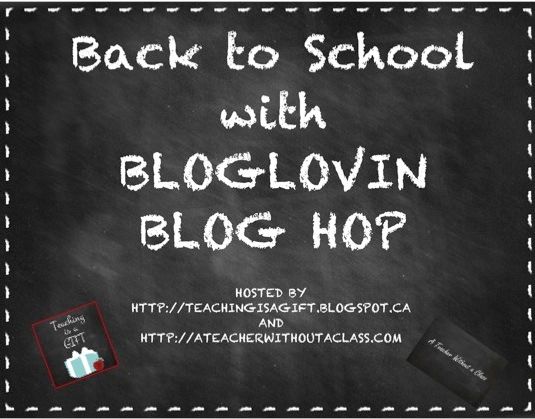 Thanks for reading! Have a great day. :)