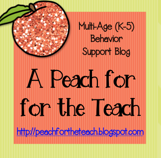 PERSONAL: I had foot surgery a week ago, so after four weeks in a boot I will be ready to start exercising! I really enjoy yoga and Pilates. Once the weather warms, I hope to add some walking/running back into the mix.
PROFESSIONAL: I have plus 28 hours past my Master's degree. I want to be at plus 40 hours by this time next year.
CLASSROOM: My four new sweeties starting in my morning class are all brand new 3's. I already know it will be busy, busy, busy getting them into the routine. I am very excited to welcome this new batch of littles into my classroom. I always grow and learn so much with each new one.
BLOG/TPT: I am not sure how realistic this goal is, but I want to be more consistent with my blog posts. I also hope to add more products in a timely fashion!
JUST-FOR-FUN: This time every year I think I need a trip somewhere warm! I love snow and cold weather, but after awhile I just need to feel the sun!
Link up your resolutions with
A Peach for the Teach
.
Thanks for reading! Have a great day.:)